An international student with the handle @cydney421 on TikTok has been struggling to ask questions in class due to a lack of comprehension.
She shared a video of herself in the classroom trying her best to decipher what was being taught to no avail.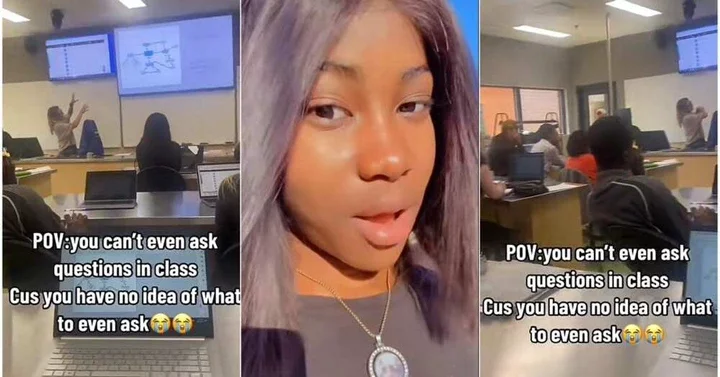 International student shares her struggles in Canada
The video resonated with many netizens who have faced similar challenges while pursuing their academic goals in a foreign country.
The caption read:
"POV: you can't even ask questions in class, Cus you have no idea of what to even ask".
Reactions trail video of international student in Canada
Netizens flooded the comments section sharing their experiences and expressing empathy for students like Cydney.
Many individuals mentioned that they came to with the primary aim of making money, which can sometimes hinder their ability to fully engage in their studies.
The shared experiences highlighted the difficulties faced by international students in balancing financial aspirations with academic pursuits.
@BA3 commented:
"I swear think say na only me e dey happen to."
@TheNiyiRichardGuytI said:
"This soundtrack you added."
@Frosh_yktv reacted:
"That's packet tracer. used for network simulations. etc."
@Yaakesewaaagyeman said:
"I swear o."
@Only_comment said:
"Una calling no relate with study una sha wan do am by force ni."
@Ife said:
"Na the AC dey affect me."
@oluwageepee said:
"I think say na only me."
@C.H.I.E.F said:
"Anytime you need help."
@francess obas reacted:
"Laugh want Finnish how person go take understand before way our head full of making money na just to enter the country."