A video of some Nigerians queuing up in a long line at the U.S. embassy to apply for a visa to leave the country has caused a stir online.
A content creator on Tiktok by the handle @williamkwasismith has highlighted the difficulties and obstacles that applicants for American visas experience.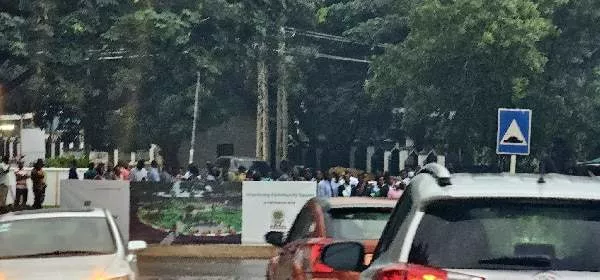 The footage showed a large queue of individuals waiting in the sweltering sun for their visa appointments.
The caption of the video read: "See what people go through for America Visa interview. Queued as early as 6 am for 9 am visa appointment."
William highlighted the commitment and early morning efforts of people applying for visas to enter the United States.
The tough conditions that visa applicants endure while patiently standing in queue for hours were depicted in the video.
Read some comments from netizens below.
@Kobe commented: "I was in the same queue in 2013, 2 times in 2021, and joined the queue again in Jan 2022 but I was still refused a visa! I only got approval in Abidjan!"
@James commented: "I was there in 2019 got refused the first time was there the same year and I got my 5-year visa. Y'all will be approved too."
@ApolloDascio reacted: "Africa is the best. It's only when you are away that you notice."
@Karl reacted: "I beg no put camera for my face no make my village people see me."
@Ginakiss commented: "I was there last year August. Thank God hv finally joined my husband in d USA."
@caritakomabu said: "It's not easy hmmm I have there before now been in the US thanks to God Almighty." @Kofi Sarpong said: "Visa applicants' queue at 6am, I believe Consular Officers will still be sleeping or sipping coffee.
God bless our homeland."