How accurate was Jose Mourinho's amusing account of Mario Balotelli's sending-off against Rubin Kazan in 2009?
The unique thing about anecdotes is that it is an individual's account of an event. True or otherwise.
Mario Balotelli plays for Swiss club Sion these days, but the former Italy international represented Inter Milan and Manchester City in his prime years, winning the latter's first Premier League title in 2012.
Mario Balotelli was Jekyll and Hyde at Manchester City
He notably set up Sergio Aguero's dramatic winning goal against QPR at the death to seal the title, recording his only Premier League assist in 70 appearances for Manchester City or Liverpool.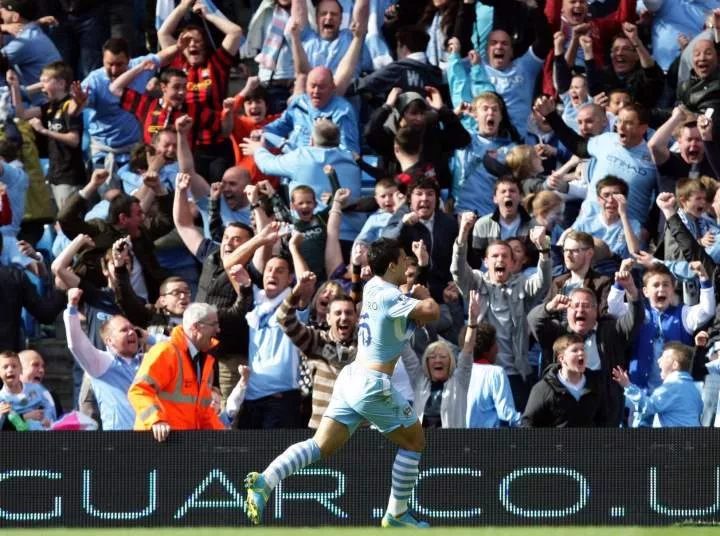 Whether he reached his full potential is not up for debate, but everyone undoubtedly had an opinion about the Centre-forward.
At times a young Balotelli scored goals or performed actions which underlined his potential. At times he irked his managers so much so that Roberto Mancini substituted him in a pre-season friendly against LA Galaxy in 2011 after the then-Man City forward attempted a back-heeled effort when through on goal.
Mario Balotelli was managed by Jose Mourinho at Inter Milan
Before that, though, was his time with Inter and Jose Mourinho. Balotelli was part of the team that won the treble in 2009-10, featuring 40 times across all competitions.
Balotelli featured eight times in the Champions League, albeit with only two starts in Europe's premier club competition.
He missed one game through suspension – the third group stage clash with Dynamo Kyiv – meaning Balotelli featured in eight of the 12 games he was available for.
Missing one game was not much of a huge story but Mourinho's account of events years later in an interview with CNN in 2012.
Asked who the most problematic players he had hitherto worked with in his career by Pedro Pinto, the conversation swiftly shifted to Balotelli – an amused Mourinho almost in stitches.
The Portuguese boss recalled an indelible incident from September 29, 2009.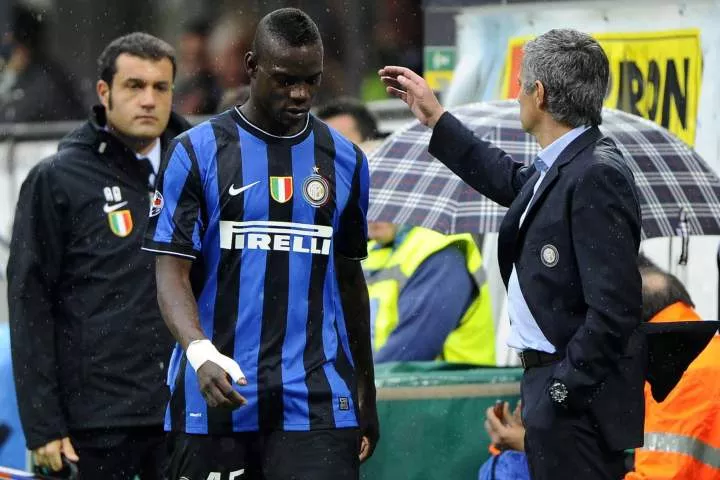 "I could write a book of 200 pages of my two years in Inter with Mario.
But the book would not be a drama, it would be a comedy," said Mourinho.
"I remember one in Kazan.
We went to Kazan in the Champions League.
In that match, all my strikers were injured.
No Milito, no Eto'o, I was really in trouble and Mario was the only one.
"Mario gets a yellow card in minute 42, 43.
So, when I go to the dressing room at half-time, I spend 14 minutes of the 15 speaking only for Mario.
"Mario, I cannot change you.
I cannot make a change.
I don't have a striker on the bench.
Don't touch anybody.
Play only with the ball.
When we lose the ball, no reaction.
If somebody provokes you, no reaction.
If the referee makes a mistake, no reaction.
Mario, please.
"Minute 46, red card!"
Jose Mourinho's Mario Balotelli anecdote: What really happened?
Admittedly, Balotelli was dismissed for a second yellow in Kazan.
But the details were altered by Mourinho.
Not privy to what went down in that 15-minute interlude, this piece will focus on what we know.
First off, Balotelli's first yellow in that Champions League game was in the 20th minute of proceedings – not before halftime, as Mourinho claimed.
Secondly, the second bookable offence happened on the hour – not in the opening minute after the break.
And the Nerazzurri played the final half-hour shorthanded – not the entire half.
Furthermore, Samuel Eto'o was available for the clash, and the Cameroonian played the game's entirety – although not having a striker on the bench was factual.
The Inter bench comprised: Paolo Orlandoni, Francesco Toldo, Ivan Cordoba, Davide Santon, Rene Krhin, Patrick Vieira and Ricardo Quaresma.
Having a bench consisting of two goalkeepers – Orlandoni and Toldo – two defenders – Cordoba and Santon – a couple of defensive midfielders – Vieira and Krhin – whilst being devoid of Diego Milito perhaps highlighted the team's situation before that match-day two clash in Russia.
Be that as it may, the Portuguese manager presented the facts inaccurately in the CNN interview.
If you look closely enough, Mourinho's nose probably grew longer after those words were uttered.